TECHNOLOGY OVERVIEW
The Searidge solution is based on established technology, project and regulatory building blocks combined in a modern architecture that promotes interoperability, extensibility and will provide KAN with the foundation for an effective Technology Ecosystem. The design goals minimize deployment and program risk while providing long term flexibility within the system.
ENHANCED AIRPORT VISION DISPLAY
The Enhanced Airport Vision Display (EAVD) is Searidge's core user display technology that has been in ATC operation since 2008 and is now deployed globally, including some of the world's busiest suites like London's Heathrow Airport to smaller sites like Northern Colorado Regional Airport. In each deployment, EAVD presents high quality, real-time video while, in many cases, integrating with a variety of 3rd party systems. The 3rd party integrated components often include those found at an ATCO working position such as: ground or air radar data, airfield lighting status, weather data, and the display of real-time aircraft data tags overlaid on the video, creating a powerful and intuitive user interface.
VIDEO STITCHING
Unlike conventional CCTV, Searidge has developed this proprietary video stitching capability specifically for use in mission critical airport and air traffic control operations. The user display provides a panoramic view, recreating the out-the-window view seen from a conventional control tower in either High Definition or 4K resolution.
Multiple redundancy layers and built-in system health checks in the software ensure the consistent display of real time video at 25-30 frames per second (FPS), at a latency of <1 second between the capture of the video at the camera and the presentation on the display to the user.
The Searidge EAVD is purpose-built to be easily scalable and hardware agnostic, making it future proof as it can support multiple camera manufacturers and camera sensor types, enabling system enhancements as camera technology continues to improve and new capabilities are made available on the market.
TRUE-STITCH
A true competitive advantage, True-Stitch was developed to improve the natural look and feel of the stitched images presented to users in EAVD. True-Stitch effectively blends each of the camera panels in a 3D space while dynamically adjusting for variations in lighting conditions between camera panel edges. This real-time image processing ensures users are presented with a seamless out-the-window view that mimics, as closely as possible, what would be seen by the human eye in the same lighting and/or weather conditions.
Going beyond the creation of a natural out-the-window view, True-Stitch also employs image processing algorithms like image stabilization, image de-noising, colour correction, alpha blending and distortion correction. The resulting video presentation significantly advances the user experience from a human factor perspective while maintaining the validity and integrity of the raw video data.
OPEN PLATFORM
The Microservice open data sharing platform is a non-proprietary environment created by Searidge that is based on open-source scalable components, including Kubernetes, Docker, Apache Kafka and Ubuntu. It allows the ability to securely and reliably host and manage applications to process and exchange data between systems and stakeholders. The modular architecture allows flexible delivery, management and validation of applications and interfaces while minimizing impact to existing services.
The platform supports containerization and virtualization as required, allowing for an efficient segregation of information. 3rd party applications can be developed and hosted following the platform application standards as well, creating a flexible platform that is able to dynamically evolve as customer's business needs change.
The platform consists of the following high-level components:
Message Queue. The Apache Kafka Message Queue is used as a message broker between all components. The distributed streaming platform is highly unified, high-throughput and low latency.
Data Storage. Cassandra is used as the No-SQL data storage component. Cassandra is decentralized, scalable, fault tolerant and has extensive replication control.
Container Orchestration. Docker and Kubernetes are used to containerize platform components and orchestrate usage of the containers. Containerization is essential for scalability and load balancing, and also allows quality control when performing continuous deployment and continuous integration.
Cloud Ready. The platform is designed to be ready to send and receive data to the cloud should the option arise to integrate Searidge cloud-based AI. Additionally, Searidge offers locally deployed AI solutions using its AIMEE engine, which are ready to integrate with the platform.
Microservices. The platform is the infrastructure allowing for the easy integration of microservices. The microservices are the custom software units that perform the actual data processing.
CUSTOMIZABLE CONTROLLER WORKING POSITION
Like the video wall, the controller working position can be tailored to meet the needs of each controller's role and workflow while retaining a consistent UI design that facilitates training and adheres to human factors principles.
The content and layout of the HMI is the product of a user centric design process that Searidge conducts with each customer called a Human Machine Interface (HMI) workshop, which fully engages the KAN user community to produce an HMI that is relevant to their specifics operational needs and maximizes user acceptance.
SYSTEM PERFORMANCE & HEALTH MONITORING - PRTG NETWORK MONITOR
Searidge uses the PRTG Network Monitor to organise and display the status of each of its devices that uses SNMP to send its metrics and availability. Camera FPS and connectivity, EAVD connectivity, Microservices connectivity and other metrics are displayed and analysed in PRTG. The following image is an example of PRTG in a test environment.
PRTG is a highly configurable network monitoring tool that provides many features to keep technical operators notified of issues. Notifications can be provided via email, text messaging, push notifications to Android devices and displays on the client. Alerts can also include audio and can be classified. Alerts can be reset, suspended and disabled.
BINOCULAR FUNCTIONALITY: PAN-TILT-ZOOM (PTZ) CAMERA
Searidge proposes leveraging HD Day/Night PTZ camera sensors equipped with starlight technology to provide controllers the ability to view in HD with 30x zoom capabilities and at all areas of interest, as well as areas they would require binoculars to view from the existing physical installation locations. Configurable PTZ automation and control features enable pre-set zoomed views as well as manual control capabilities.
CONTROLLER WORKING POSITION (CWP)
Searidge has proposed a single Controller Working Position comprised of a dual 38" Ultrawide 4K displays and a single 24" HD Touch display.
The following picture shows an example of the proposed CWP for the ALA IAM validation system: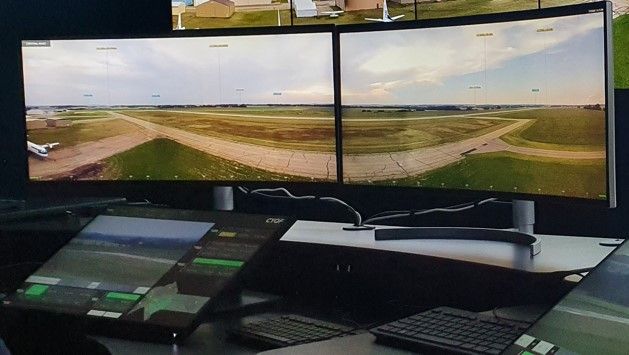 HUMAN MACHINE INTERFACE (HMI) DEVELOPMENT & HMI WORKSHOP
Searidge's configurable HMI allows for flexibility and readiness to meet the variety of functional and user requirements. The HMI is an important consideration in safety critical applications like the provision of air traffic services as the usability of the system has a direct correlation with user response times and their workload efficiency. Searidge has developed the HMI over several years to meet defined and consistent standards.
Some common HMI features include:
Stitched real-time views presented intuitively with user pre-set buttons for each view (if multiple installation sites)
Configurable pre-sets allow for seamless hot-spot monitoring of critical areas and instant panning of the PTZ cameras through the touchscreen interface, or the CWP mouse.
Video overlays for aircraft data, gate tags, distance markers, weather, lighting, etc
Camera Lens wiper control
Controls for activation of lighting commands through the signal light gun
GRAPHICAL USER INTERFACE
As with all Searidge system components a user centric approach is recommended to develop an effective GUI. Searidge proposes conducting a design workshop to include all relevant stakeholders in the GUI decision making process due to Searidge GUI flexibility.
| | |
| --- | --- |
| PTZ view & control | View of selected PTZ camera with cross hairs and ability to control the camera using touch or mouse via a compass overlay on the live camera view. The user also has the ability to switch between multiple cameras and manually control focus and iris. |
| Panoramic presets | Soft buttons to enable the user to switch between various panoramic view orientations (i.e. 360° to front 200° to back 200° FOVs). In addition, if panoramic view switching is enabled, it also enables the controller to switch between various panoramic views on a single monitor display array |
| Panoramic presets | Soft buttons to activate various pre-programmed and user-programmed views (i.e. hold lines, approach paths, touch down points, critical areas, etc.). The user clicks the desired preset and the camera will automatically pan-tilt-zoom to that location. |
| Camera exposure presets | Soft button to toggle between pre-configured camera exposures optimized for various lighting conditions (i.e. Day, Night, Dusk, Dawn, etc.) |
| Overlay control | Soft button to activate/deactivate all or individual overlays. In addition, the user is able to change the opacity of the overlays via a sliding bar. |
| Map | An SVG map of the aerodrome is included, and the user has the ability to zoom in and out of the map as desired. The map view can also be manipulated through preconfigured presets (zoom levels, perspectives, 2D/3D, etc.). The map component also has camera field of view overlays (PTZ & panoramic) to provide the user with a geographical coverage perspective. |
| Warning bar | Shows any critical/degraded warnings, as well as desired system performance attributes (i.e. video frame rate, latency, etc.) |
| Date & Time | Shown at all times, taken from integrated GPS time source, in industry standard format. |
The features descried below outline the numerous methods Searidge's GUI may be controlled and manipulated.
SYSTEM CONTROL INTERFACE
The proposed system utilizes a touch enabled control interface, where the HMIs controls are displayed on a 24" multi-touch monitor with a stylus pen input for the PTZ camera controls (in addition to preset buttons). The control user interface is highly configurable and can modified based on user requirements and inputs from the forthcoming HMI workshops.
MULTI-PANORAMIC PRESENTATION: PICTURE IN PICTURE (PNP) AND VIDEO OVERLAYS
The proposed CWP display will be configured to provide unique video data overlays or augmented reality to add valuable static and/or dynamic information to the stitched video images within the display. These overlays/PIPs are provided to ATCOs with the ability to resize and move them within the stitched image.
The following image shows an example of a PiP PTZ View, overlaid on the panoramic view adjacent to the PTZ area of surveillance.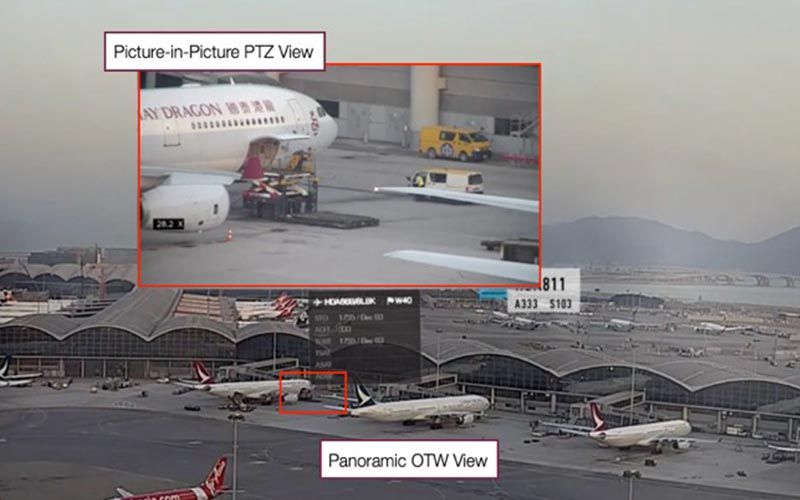 PANORAMIC VIDEO ZOOMING AND PANNING
The EAVD HMI allows the user to zoom into and pan through any panoramic view. This enables the ATCO to setup and manipulate various fields of view of the panoramic presentation on the HMI (either via panoramic preset buttons or manually via mouse).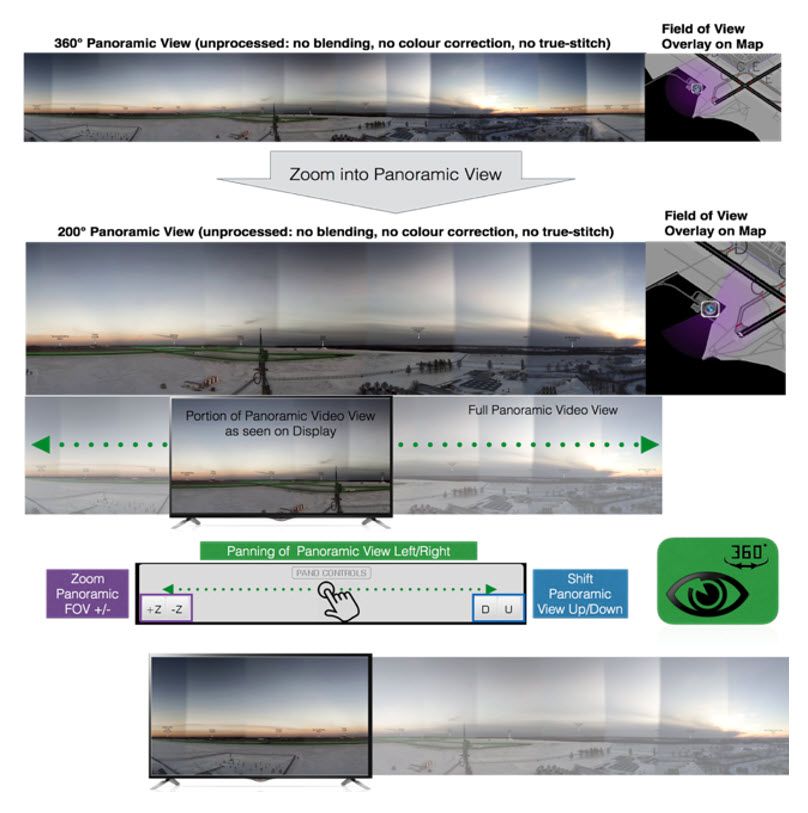 SCALABLE VECTOR GRAPHIC MAP
The Searidge system will also provide a Scalable Vector Graphic (SVG) map when integrated with the A-SMGCS system that will displayed on the video wall and individual working positions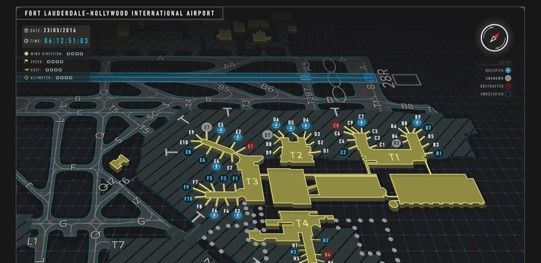 PRE-SET PTZ CAMERA VIEWS
The EAVD PTZ control window includes soft buttons to activate various pre-programmed and user-programmed views (i.e. hold lines, critical areas, gates, taxiways, hand-off points etc.). The user clicks the desired preset and the camera will automatically pan-tilt-zoom to that location. The amount of presets and the preset locations are all expected to be configured based on controller input.
The image below provides an example of Searidge's PTZ preset buttons.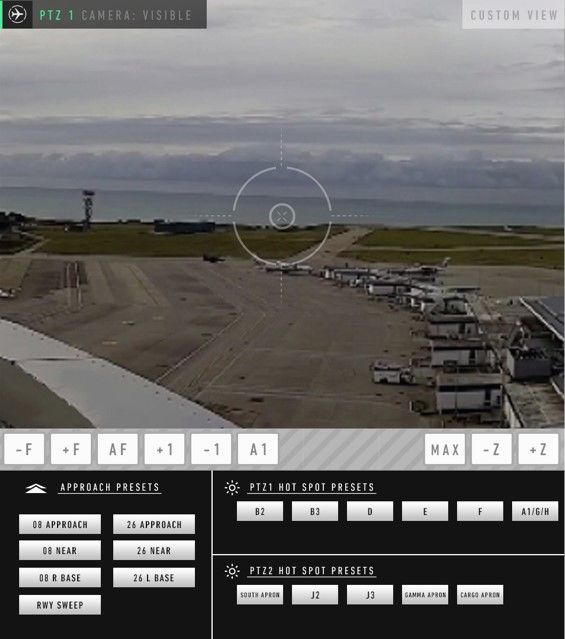 PAVEMENT OVERLAY MARKING
In order to enhance the level of situational awareness Searidge proposes equipping the system with it's pavement overlay marking functionality to clearly identify and outline particular areas on the airport surface. Overlays can be both toggled on/off, and is opacity configurable via a sliding bar on the touch interface to accommodate all controller preferences and include (not limited to) the following:
Runway contour and/or centreline 

Taxiway contour and/or centre line 

Runway, Taxiway, Taxi lane, Service Roads, Intersection labels 

Hold lines and other aerodrome perimeter marking overlays (including live status if data is available)
Hand-off points
Gate ID overlays
MET Visibility marker overlays 
(either static or from weather system integration)
TRAINING
Searidge employees together with SmartNet Gmbh shall perform on-site training at the training facility using a combination of theoretical presentations and practical exercises. Development of the training plan and materials is considered to be part of the project, and full delivery of all materials is included within the scope of the project. Training shall be performed directly by Searidge project members to ensure an efficient transfer of knowledge.
TRAINING TYPES
Searidge offers training for the following types of students:
Subject Matter Expert (aka "trainers"): Total training including all system details (system design, operation, technical tasks). This course is intended to fully transfer expert system knowledge to individuals in the KAN organization who can subsequently repeat the other two training courses to expand the base of skilled personnel.
Controllers / Operations: Training of operators who will use the system. This training is highly focused and adapted to controllers, so that only the essential knowledge is provided, and instilled efficiently.
Technical Training: Training of technical operators who will perform schedule preventative maintenance of the system, diagnose and resolve issues (first-level support), replace components with spares, etc.